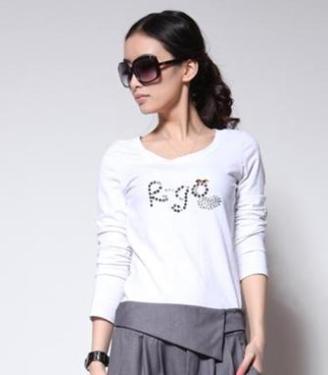 With the continuous development of the social economy and the continuous improvement of people's income levels, women are pursuing beauty, fashion, avant-garde, and branded fashion. A large number of women's clothing brands are filled with the clothing market, which greatly meets the needs of women consumers. The women's clothing market continues to grow and expand.
Shangpu Consulting light industry analysts believe that at present, the development trend of China's branded women's clothing market:
First, the sales volume of leisure-brand women's clothing continues to rise. With the rapid development of the international fashion leisure trend, women's leisure brands have become the "evergreen" in the womenswear sales industry. The casual style design concept will be infiltrated into all areas of the women's wear market. Women's wear will reflect a more profound modern society. Casual color. The leisure brand women's wear combines fashion, avant-garde, and leisure into one, becoming a wonderful work for the branded women's wear market and becoming a best-selling product in the clothing market.
Second, the personalized development trend of branded women's clothing is becoming increasingly evident. The personalized service will be gradually deepened, according to the constant innovation of different consumers and different consumption areas and design concepts to meet the needs of women consumers at different levels and in different regions. Branded women's clothing has made great efforts in designing, researching and developing, and has continuously improved the market competitiveness of products.
Third, the branded women's wear market regards health apparel as a highlight of consumption. Clothes made of natural materials (such as cashmere, silk, and hemp) are increasingly favored by women. Women wear more and more attention to nature and health. Therefore, the concept of health is implanted into the design and production of women's wear. More and more companies in the women's wear market play the "healthy and natural" banner to attract more women. By.
Fourth, the women's brand market is more refined. With the continuous development of new industries, people's education, and the development of multicultural society, women's brand awareness has become stronger. With the consumer groups with different needs, the segmentation of the women's brand market will continue to increase, and the brand effect of women's wear will become more apparent.
Fifth, the number of women's brands is small and the quality of single brands needs to be improved. According to the "2012-2016 China Women's Wear Market Survey Report" released by Champion Consulting, enterprises should grasp the development trend and trend of the future branded women's clothing market, and timely research measures and come up with measures, I believe the future development of the brand women's clothing market A bright light.
Snuggie Hoodie,Blanket Blend Hoodie,The Comfy Blanket Sweatshirt,The Comfy Blanket Sweatshirt
Hangzhou Dowin Hometextile Co.,Ltd. , https://www.dowinbedding.com