What is the best way to welcome summer? As the weather gets hotter, besides skirts, many people should wear simple and casual T-shirts. As a basic single product, the white T-shirt is versatile and will not be outdated. It can bring unlimited possibilities for styling no matter the occasion.
However, do you have such a question: why is it that you wear a white T-shirt is not as advanced as others? The seemingly simple white T is actually the clothes that test your vision, and the matching will also affect the exquisiteness of wearing T-shirt degree.
Since white t-shirts are often worn in the summer, today's urban beauty will come to chat with everyone, how to wear it high-level.
"Three points" when wearing a white T-shirt
If you want to wear white T-shirts, you must first choose the right one. To buy a simple and durable T-shirt, the first thing is texture, and the second is the issue of version.
· Good fabric has good texture
White T-shirts with "texture" are far superior to other ordinary T-shirts in fabric. That's right! Cotton T-shirts are sweat-absorbent and breathable, and are a summer choice. But you all know that some thick fabrics are too hot, walking in the high temperature outdoors in summer, sweating and raining, and far from the sense of high quality!
Girls with cool pictures will also choose some thin cotton material. But the problem is coming. Such a T-shirt is particularly unwashable. It deforms loosely after being worn a few times and is a bit too ugly.
(Error demonstration)
Pursuit of fresh breathability is worse than wearing a cool underwear than buying an overly thin T-shirt. Pairing with the breathable underwear such as the urban beauty Wisecool series can increase the cooling feeling of the body, and it will not be sweaty for a long time in summer. Ultrasonic positioning and punching process is used on the mold cup, which can keep dry and breathable on hot summer days. Even if you experience a high temperature test outdoors, you can still be fashionable online ~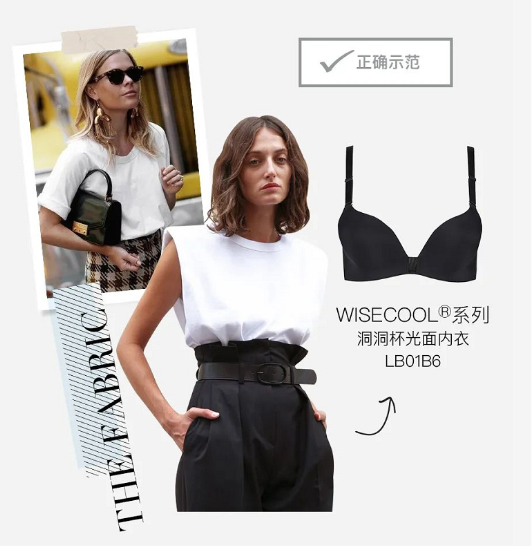 Correct demonstration: urban beauty Wisecool series hole cup smooth underwear style number LB01B6
· A good version only has a good figure
Good T-shirts are also very particular about the shape, and the cutting of the details will directly affect the overall state after wearing. You know, no white T is casual.
White T too tight and too wide are not suitable, a little embarrassing to wear. Especially tight-fitting T-shirts, attached to the body, as long as the underwear is not suitable, empty cups, meat, it is difficult to think of no traces!
(Error demonstration)
Choose a little looser than the body, the effect is better. The clothes are neat and stylish, and they are more casual. Under the premise of choosing the right size for underwear, it is necessary to choose the smooth and seamless underwear to be the invisible master.
Urban Beauty 0-pressure seamless series This underwear is suitable for summer white T-shirts, a one-piece cup structure, seamless fit on the chest is more invisible. The surface of the simple light cup has no trace, no indentation, and no tightness. It is used to double the shape of the T-shirt.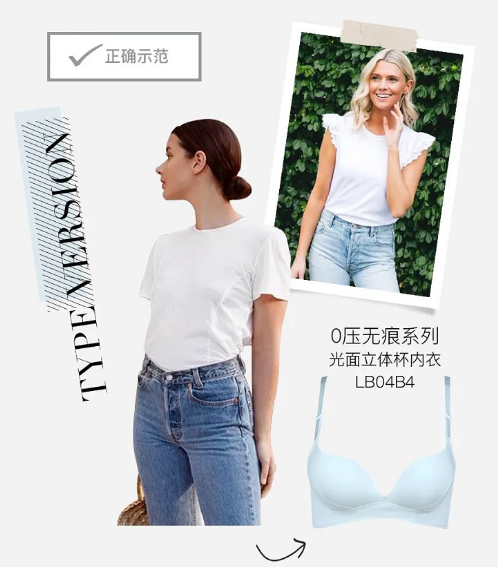 Correct demonstration: urban beauty 0 pressure no trace series glossy three-dimensional cup underwear style number LB04B4
· A good match is really fashionable
Don't relax, many fashionable white T-shirts with comfortable fabrics may be ruined. For example, when wearing a white T-shirt, the red and black underwear is exposed, which is a disaster. Matching white underwear in a white T-shirt is also a mistake, and it is still easy to see.
(Error demonstration)
Which underwear is suitable? You guessed it. Choose a underwear with a skin color similar to your own skin. When wearing a white T-shirt, you can be "invisible" to a large extent. Recommend the urban beauty's 0-pressure seamless underwear, as the inner wear, choose light skin to blend with the skin color.
The non-marking cup is cut to fit the body line, so comfortable as if it was not worn. The city beauty is 1/2 cup, but the support is enough. It is more friendly to petite breasts, and you don't have to worry about the "empty cup" anymore.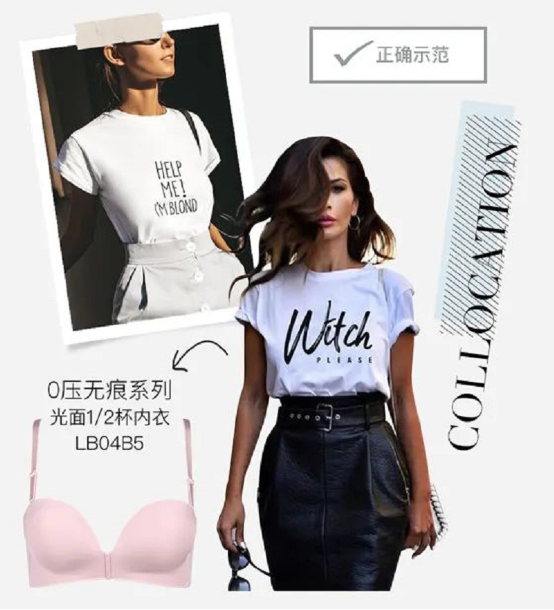 Correct demonstration: urban beauty 0 pressure no trace series smooth 1/2 cup underwear style number LB04B5
Fabric, version, and matching, wearing a simple white T-shirt is not a little bit simple. Seeing the fashionable styles worn by bloggers, there are also university questions.
If you do n't have an underwear with a summer white T-shirt in your closet, do n't talk nonsense, buy it now. For more underwear options, let's take a look at the styles that the city beauty has chosen for you.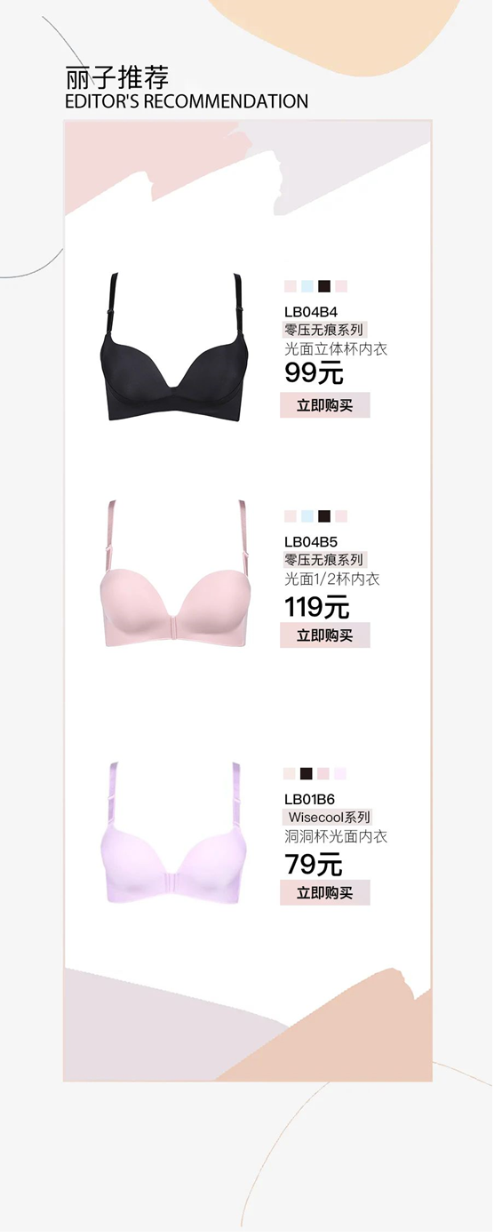 SUSAN GIFTS CO.,LIMITED , https://www.susangifts.com